What is a White Collar Crime? :- There are various kinds of crimes that occurs in the society. At the same time there are various kinds of Criminals as well who stays in a society. One among them are White Collar Criminal. They are the Individuals or Businessman or Politicians etc. who commits a crime with misusing their powers, status or resources available to them.
For the web story of this article "click here".
What is a White Collar Crime?
During the course of their employment or professional time, people who occupy significant positions in a firm and enjoy high social status commit white-collar crimes. Despite being non-violent, they represent a serious threat to a country's economy.
Due to the abuse of power by higher authorities, which restricts the regulation of such unlawful enterprises, such crimes are fairly common in third world countries.
Ones of the most typical white collar crimes in India and around the world are corruption, fraud, and bribery.
Origin of White Collar Crime:-
First described as "a crime committed by a person of respectability and high social statuses in the course of their occupation" by the sociologist Edwin Sutherland in 1939.
Prior to Sutherland's definition and his 1939 research, there had already been white-collar crime. Sutherland sought to develop a general theory of the typical criminal. After reading the works of other researchers, he came to the conclusion that all criminals fit the stereotype of being poor or belonging to a low social class. Sutherland found this idea difficult to accept because criminal activity was also committed by people from higher social classes.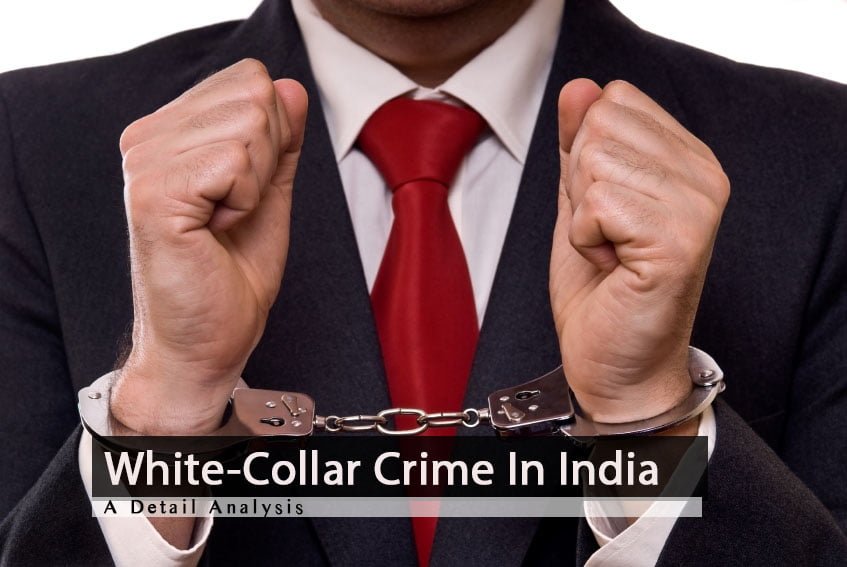 Sutherland's book detailed the criminal activities carried out by those corporations, who were making the claim that they exhibited many of the traits of professional thieves, including premeditated and organised offences, a propensity for recidivism, and a disregard for the law.
These results caused controversy for the book. While many in the legal and corporate communities denounced it as misguided and twisted, many in the social sciences lauded it as a landmark. The fundamental idea of crime was the main source of contention.
Definition of White Collar Crime according to Laws in India:-
The definition of White Collar Crime in India derives its sources from various acts. The Laws that states the White Collar Crime are as follows:-
Code of Criminal Procedure (CrPC) 1973 and the Indian Penal Code (IPC) 1860
In order to commit a White-collar crime, both actus reus and mens reas must be present. The majority of White-collar criminal offences are covered by the IPC, including dishonest property misappropriation (S. 403), criminal breach of trust (S. 405), cheating and dishonestly inducing property delivery (S. 420), forgery (S. 463), mischief (S. 425), and cheating by personation (S. 416), among others.
The Criminal Procedure Code, on the other hand, outlines the procedural requirements for each of these offences and specifies whether each is cognizable or not, whether bail is required or not, and the court that will hear the case.
The 2002 Prevention of Money Laundering Act and Rules :-
The main piece of legislation that governs money laundering and other related acts that affect the nation's financial system is this Act. In June 2009, the statute underwent an amendment to close several gaps. Property obtained from criminal acts that have been listed as scheduled offences under the Act may be seized under this provision.
To close the loopholes around the current PMLA, the Finance Act, 2019 was also introduced. By changing a few PMLA clauses, it seeks to clarify any unclear language in the current laws.
This law gives the Directorate of Enforcement (ED) the authority to conduct property-related searches, seizures, arrests, attachments, confiscations, and investigations.
A number of laws have been passed governing a variety of topics, including the return of confiscated property, how documents are received, how to conduct searches and seizures, etc.
1988's Prevention of Corruption Act:
The Prevention of Corruption Act attempts to codify and improve the legal framework governing anti-corruption efforts and related issues. In order to improve the due diligence that the regulators under this statute do, the statute was extensively revised in 2018.
Corruption and bribery, as well as any other offence covered by this Act, are addressed in depth in Chapter III of this Act.
Income Tax statute of 1961:
The statute outlines white-collar offences involving tax evasion and other tax-related violations and stipulates penalties for them. Willful tax evasion is an offence that is defined in Section 276C, and there is a penalty for it as well.
Chapter 22 of the Act has also included penalties for further violations such failing to pay taxes or giving taxation authorities misleading information.
2013 Companies Act:
The newly revised Companies Act largely addresses offences related to corporate fraud. It includes definitions of crimes including soliciting investments from people falsely under Section 36, making false claims in the prospectus under Sections 34 and 35, paying a fee for making false claims, mutilating or destroying documents under Section 229. The Act places more emphasis on the fraud's execution than on the affected parties' subsequent loss or harm.
Types of White Collar Crime:-
Fraud: According to the definition, fraud is when someone intentionally acts dishonestly in order to benefit themselves unfairly. Bank frauds, which include obtaining loans inadvertently granted, stealing checks, and impersonating financial organisations over the phone or online, are among the most prevalent types of fraud in India. Fraudulent activities include things like identity theft, pyramid scams, and Ponzi schemes.
Embezzlement: Under the cover of trust, embezzlement is committed. According to section 405 of the IPC, a person has violated trust when he begins using the funds or property that has been entrusted to him in an improper and unauthorised manner.
Insider trading: It is the criminal practise of purchasing, selling, or manipulating other financial instruments in order to profit from privileged access to inside information about a firm that is not available to the public.
Money laundering: When a person is successful in passing off money gained from legitimate sources as money obtained unlawfully, a crime has been committed. The Money Laundering Act of 2002 defines it under Section 3.
Tax evasion: According to the Income Tax Act of 1961, evading taxes is a criminal offence. Either a single person or an entire institution could engage in it. It is the act of evading or avoiding paying taxes by fabricating circumstances in order to reduce the amount of tax owed. In essence, tax evasion is taking money from a country that would otherwise go towards its expenses and economic development. It is punished when income tax returns are not filed on time, when misleading information is given, and when owned assets are hidden.
Counterfeiting Currency: According to Section 28 of the IPC, counterfeiting is a crime. It is the act of copying genuine objects, such as coins and money or even everyday items like clothing, bags, and shoes.
Cybercrimes: As India moves towards digitalisation in many areas, cybercrimes have increased in frequency. Cybercrimes include any criminal activity that involves a computer and the internet. These include cyberterrorism, stalking and harassment online, and child pornography.
Cases of White Collar Crime:
"Abhay Singh Chautala v. C.B.I."
In the current case, a charge sheet was brought against two appellants for violating Sections 13(1)(e) and 13(2) of the Prevention of Corruption Act, 1988 read in conjunction with Section 109 of the Indian Penal Code, 1860 in separate trials.
Both of the defendants were accused of amassing an excessive amount of money relative to their incomes while they were Legislative Assembly members.
When the Central Bureau of Investigation (CBI) started looking into the matter, it was discovered that the appellants' father had amassed substantial real estate holdings.
According to the High Court, the appellant gave information about the accused that was completely unrelated to the office(s) they were really holding at the time. As a result, it was determined that the penalty under Section 19 of the Prevention of Corruption Act, 1988, lacked any foundation.
Securities Fraud by Harshad Mehta (1988-1995)
The security company "Grow More Research & Asset Management Limited" was founded in 1990 by stockbroker Harshad Mehta. Investors blindly followed Mehta's lead because he was a well-known personality in the stock market and was known as the "Sultan of Dalal Street."
He created a fictitious market by borrowing substantial sums from the bank and buying the scrips at exorbitant prices. He took advantage of his position to manipulate some scrips' stock prices for his own benefit. This led to an unnatural infusion of cash into the stock markets, which abnormally increased the price of these shares. Despite being immoral, Harshad Mehta's action was lawful.
The issue occurred when Mehta stole funds from the bank in order to acquire capital to engage in the stock market. This money theft falls under the umbrella of money laundering. He made about 5000 crores of rupees. This con was discovered by the eminent journalist of the day, Sucheta Dalal. The market lost 0.1 million dollars in one day as a result of this relentless selling.
The Indian stock market had never experienced a crash as large as this one. Various adjustments to SEBI laws and regulations were made in an effort to limit these transactions.
Conclusion:-
White collar crimes have two startling characteristics: first, they are non-violent crimes, despite the fact that the perpetrators prefer to exert control or feel entitled, and second, they are committed by members of higher social classes.
However, these crimes are also perpetrated by low-paid accomplices, even though the mastermind may be wealthy and have a better social rank in his line of work.
White collar crimes are frequently perpetrated as a result of peer pressure or are influenced by the corporate culture.
Recommended for you:-